So the guy who did the Negro Terror documentary showed up to my show with Stay Fashionable last night and filmed us, included @sweat_rockers and Little Baby Tendencies at the Hi-Tone small room.
Am I gonna be in a documentary about local memphis female fronted bands? I dunno. Maybe. Every band in the lineup had a female lead.
I'm apparently still severely mentally ill, and I become more aware of it the more I recover.
I have seen so much fucked up shit. Playing shows totally sets off my PTSD. Keep in mind the trauma that sent me to therapy happened at a show. yet somehow I've consistently played shows, even during the pandemic, the entire time since.
Having super bad anhedonia and dissociation. I'm basically halfway there during a show, using all my energy to rest and hold still, which seems like a paradox. Like going to the bathroom and just shaking after I get set up. It's a lot of pressure, performing for a crowd when you haven't really practiced in a month, being permanently recorded, just playing shows every week or two, doing all your playing on stage.
Like, how crazy do I sound talking about this stuff? I work a boring ass office job all day, then I play a show that's shockingly well attended for a wednesday night during a fucking thunderstorm.
And what do I do? I give the touring band a sack of mushrooms after the show.
Bruh, I am a 41 year old morbidly obese man, getter balder everyday with a corkscrew of hair for a combover wearing a japanese FMW Leather Face Tony Myers shirt based off a Super Mario 3 logo.
At what point does it become so ridiculous even I don't believe myself? I wouldn't believe myself if I met me.
But there's pictures. There's video. Factually, I KNOW it happened.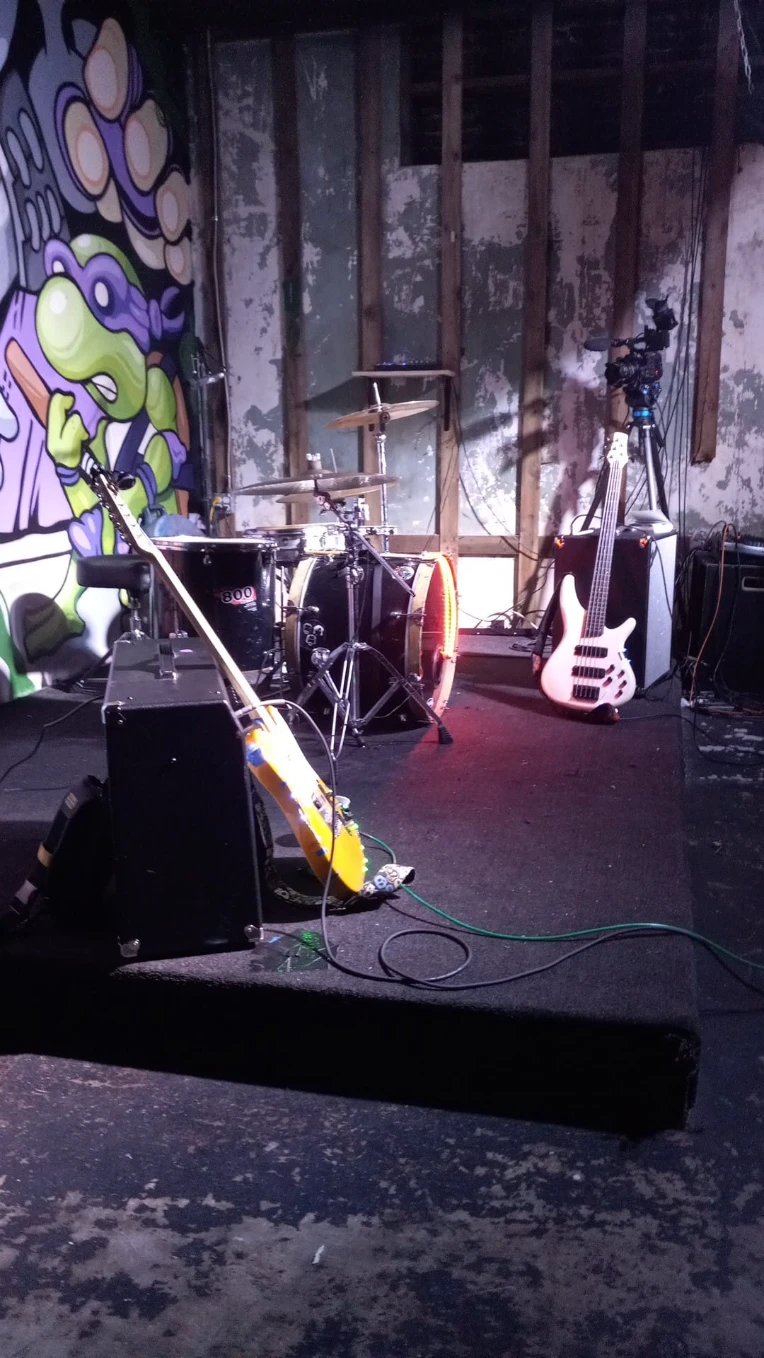 The sticker on that bass drum is the inverse of the tattoo on my chest, and also my first album cover, and there's John Rash's camera.
I'm thinking about going back into therapy next month, but definitely well before 5-12.
What am I gonna tell the guy?
"Hi, I'm FUNKbrs, and the past 3 therapists I've had have dumped me for being too crazy, 2 of which tried to have me hospitalized and the other one wanted me medicated before even bringing up hospitalization, you're #4 and I need you to tell me I'm fine and nothing was ever wrong with me despite my ridiculous trauma history"
But like, I'M NOT HERE. Like the whole show I'm just watching my hands play all the songs on autopilot. Hard shit. Technical shit. Some part of my brain is doing it, and its not the part that uses my eyes. I couldn't even list off the names of all the songs if you paid me $20, but I can play them all well enough for a dude to want to film it for a documentary about music.
Like for real, the guy who used to live in this head DIED 5 and a half years ago, and I just kinda woke up in his life. I won't recognize people I've known for YEARS in a crowd. It's all just a narrative. I have all these terrible memories but they can't all be true. Nobody could be that fucked up. I'll have a flashback and a whole period of several years, like a whole band I was in, recorded with, and played shows with, that I'd completely forgotten about.
The band Who Shot John? for example. I don't remember ANY of that, but yet I recorded lead vocal of that band with a song I wrote. Like, it's posted on NG.
I don't know, this is a long ramble I guess. You're the one reading my newspost, so I guess you're the weird one for reading it, not me. I lived it. I'm allowed to write about it.
Fuck man I smell blood and kerosene.
There's no reason for me to be this out of it. The anniversary won't be for MONTHS.
But the show went well, fuck.
I better shut up before I say something dumb.